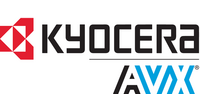 AVX Corporation is a leading worldwide manufacturer and supplier of a broad line of passive electronic components and interconnect solutions that adhere to the strictest quality controls.
Virtually all types of electronic devices use AVX passive component products to store, filter or regulate electrical energy.
The AVX passive electronic component products include ceramic and tantalum capacitors, film capacitors, varistors, filters and other components manufactured in eighteen AVX facilities throughout the world and passive components manufactured by Kyocera Corporation who is the major AVX stockholder. AVX also manufacture electronic connectors and inter-connect systems.
AVX has a worldwide distribution network and provides detailed technical support for each product they manufacture.