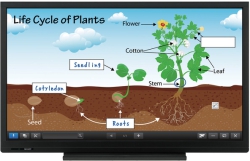 image shown is a representation only

70 INCH BIG PAD PN-70SC3
Supplier:
Sharp
Matchcode:
PN-70SC3
Rutronik No.:
DISMON1195
Unit Pack:
1
MOQ:
1
Packaging:
INDIVIDUAL
70 INCH BIG PAD PN-70SC3 Description
A Smart Display That's Built to Enhance Communication
Whether you're in a classroom or a meeting room, it can sometimes be a challenge to keep everyone focused and engaged. That's where Sharp's PN-70SC3 comes in. This large full-HD 70-inch touchscreen monitor lets you display and manipulate a variety of information with ease and precision. Smart and convenient SHARP Pen Software opens up new possibilities for brainstorming and sharing information in real time. Flexible and cost-effective, the PN-70SC3 provides a platform to boost collaboration and enhance the impact of your lessons, meetings, or presentations.
Lively Interactions
Simultaneous Writing
Recognising up to six points of contact, the PN-70SC3 lets two people write on the screen at the same time using touch pens or fingers. Participants can take an active part in classroom interactions, meetings, brainstorming sessions, and more. With simultaneous writing, your discussions and presentations become platforms for the productive and creative exchange of ideas. Having two people write at the same time lets you double the range of opinions gathered during discussions. During a debate between two groups, for example, participants can dictate points to two nominated note writers. And no matter where you're writing on the screen, you can easily change the colour and type of pen output or use the included eraser to delete unwanted content.
Note: When multiple touch pens are used simultaneously, they have the same pen settings.
Display, Write, Edit, and Share Information
The PN-70SC3's SHARP Pen Software includes two convenient modes that you can select depending on your needs. Whiteboard mode is ideal for writing memos and diagrams, and it comes with a range of useful background templates: a calendar, an action plan, a to-do list, a corkboard, and more. With overlay mode, meanwhile, you can write or draw directly onto displayed photos, videos, PDFs, or Microsoft® Excel®, Word, and PowerPoint® documents. In either mode, you can easily save your notes, make printouts, send files as e-mail attachments, and share data with selected recipients. Because meetings and classroom discussions revolve around a single large monitor, participants can stay focused on the interaction itself rather than on their own note-taking.
70-Inch Screen with Full-HD Quality
The full HD (1920 x 1080-pixel) resolution of this large 70-inch monitor ensures that detailed text and images are reproduced vividly and accurately. Charts, paintings, historical photos, and more—they're all brought to life on the big screen in a way that simply can't be achieved with normal textbooks and printed materials. Even in bright rooms, text and images are displayed beautifully, so that everyone can stay focused on the discussion.
Built-in Speakers
The PN-70SC3 features built-in speakers that let you hear any audio information that accompanies videos or other content. No external speakers required.
Simplicity and Reliability
User-Friendly SHARP Pen Software
Using a touch pen, you can easily launch and display the SHARP Pen Software user interface—a menu comprising smartly arranged icons that provide easy access to pen settings and functions. Menus can be browsed easily and are displayed in a floating format that allows them to be moved to anywhere on the screen.
Handwriting Recognition
The PN-70SC3 features a handwriting recognition [Works with languages supported by SHARP Pen Software] function that converts selected onscreen handwriting into standard text. It can also recognise handwritten shapes—such as circles, triangles, and straight lines—and automatically convert them into objects. This smart and convenient function makes it easy to utilise onscreen content to make a legible record of your lesson or meeting.
Minimise Glare and Fingerprints
Protecting the glass screen is an anti-glare film that works to reduce glare and reflections and minimise fingerprint soiling. Even in brightly lit rooms, documents and teaching materials are easy to read.
16-Hour Daily Operation
The PN-70SC3 can be used continuously for up to 16 hours per day, providing reliable performance in the schoolroom or office.
Smart Collaboration
Work Smarter with SHARP Display Connect (Option)
Optional SHARP Display Connect [*1] software (PN-SL20) supports effective and multifaceted communication. Onscreen content— including handwritten notes and drawings—can be viewed simultaneously on the PN-70SC3 and on mobile devices [*2] such as PCs/Macs, tablets, and smartphones. SHARP Display Connect facilitates interactive presentations, lively discussions, and paperless meetings in both business and educational settings.
■ SHARP Display Connect enables the following interactive functions on the PN-70SC3 and mobile devices connected via wireless LAN: ▪ sharing of onscreen content
▪ transfer of files
▪ interactive onscreen writing and drawing
▪ remote control of the PN-70SC3 from mobile devices
■ Up to 50 mobile devices*1*3 can be connected simultaneously.
■ Files can be transferred between mobile devices even if they are not connected to the PN-70SC3.
■ Users can capture onscreen images and save them on their mobile devices to make personally annotated memos.
■ SHARP Display Connect also connects two BIG PAD on the same network (intranet, VPN, etc.) to enable larger-scale interactive communications.
*1: The number of connectable mobile devices depends on the host OS and the accompanying Windows® End-User License Agreement:
 Windows® 7: Max. 20; Windows® 8/8.1: Max.
*2: OS requirements (as of August 2015): Host: Windows® 7, Windows® 8/8.1; Client: Windows® 7, Windows® 8/8.1, OS X® 10.7–10.10, AndroidTM 2.3–5.0, iOS 6.0–8.0. Please contact your local authorised Sharp dealer or representative for further details.
*3: Connecting 26 or more mobile devices requires at least two LAN access points.
MFP Connectivity
Documents and colour images scanned from a compatible Sharp MFP can be imported directly to the SHARP Pen Software for display on the PN-70SC3. For added convenience, image data shown onscreen— including notations—can be saved to a PC/Mac or sent directly to an MFP for printout.
Screensize

70 inch

Resolution

1920X1080 pixel

Brightness

300 cd/m²

Colours

16,77 Mio

Contrast

3000:1

Width

1633 mm

Response time

6 ms

Depth

109 mm

Interface

HDMI

Inverter

N Y/N

Backlight Sys.

Edge LED

Viewing angle

178° u/d/l/r

Operating temp.

+5 - +35 °C

Display Type

UV²A LCD

TFT with Touch.

YES

Automotive

NO

Leadfree Defin.

10

Packaging

INDIVIDUAL

Height

994.5 mm
Customs Tariff No.

85285291000

Country

Japan

Supplier Lead time

3 weeks