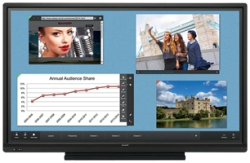 image shown is a representation only

60 INCH Wirel. BIG PAD PN-60TW3
Supplier:
Sharp
Matchcode:
PN-60TW3
Rutronik No.:
DISMON1194
Unit Pack:
1
MOQ:
1
Packaging:
INDIVIDUAL
60 INCH Wirel. BIG PAD PN-60TW3 Description
The BIG PAD That Lets You BYO Device and Unleash the Creativity
PN-70TW3/60TW3 touchscreen LCD monitors boast wireless connectivity that enables a range of different devices to connect to them. Information from those devices can be displayed in a 2 x 2 split screen, allowing for highly productive interactions. Using SHARP Touch Viewing Software, you can manipulate various file types in the same work area. The pen digitizer function, meanwhile, distinguishes between pen and finger input and supports natural and seamless operation. These and other superb BIG PAD features are sure to boost creativity and participation levels in presentations and small-scale meetings, while fullling the growing demand for cable-free connection of BYO devices.
Flexible Communications with a Variety of Devices
Wireless Connectivity
Now there's no need to mess about with tangled wires or conversion adaptors when you want to share your ideas. The
 PN-70TW3/60TW3 has a built-in wireless controller that enables multiple devices—including Mac or Windows® computers, smartphones, and tablets—to connect wirelessly via dedicated connection software. Mac and Windows users also have a handy option for quick, temporary connection: they can launch the wireless connection software on the bundled token without pre-installing anything. Thanks to wireless connectivity on the PN-70TW3/60TW3, meeting participants can bring their own devices (BYOD) and enjoy speedy and active communications.
Note: Connection software is downloadable from the AppStore (iOS) or Google Play (Android).
2 x 2 Split-Screen Display
The PN-70TW3/60TW3 can connect wirelessly with multiple mobile devices and simultaneously display the onscreen contents of those devices in a 2 x 2 split screen. Alternatively, any one of the individual screens can be enlarged to full-screen size. The screen can be switched either from the BIG PAD or from a connected device.
Enhanced Security
Because data is not stored during wireless connection, there's no need to worry about any leakage of confidential information from a discussion or presentation.
Direct Drawing Function
The PN-70TW3/60TW3 can be quickly switched to enable use of Direct Drawing, a user-friendly function that's just like using a whiteboard. Even for first-time users, this simple write-and-erase function is easy and intuitive to operate. Screen captures can be saved as JPEG files on a USB memory device.
Overlay Function
In overlay mode, you can write annotations on a transparent screen that overlays the visible onscreen content. Text and graphics written on the BIG PAD can be captured—along with the contents on the screen—and saved as JPEG files on a connected USB memory device or on a wirelessly connected Mac or Windows PC. The overlay function is a major boon when you want to share meeting notes with participants and others.
Flexible, Natural Work Environment
Revolutionise Discussions with SHARP Touch Viewing Software
SHARP Touch Viewing Software is a touch-operated onscreen user interface that lets you easily view, manipulate, and write annotations on different types of files, including Microsoft® Office applications, videos, and web pages. Being able to organise a variety of file types in one work area allows you to have more active discussions.
View various types of file in one work area
Various kinds of file [*] —including Microsoft Office files, PDFs, web pages, and image and video files—can be displayed on the screen as "sheets". There's no need to open the respective applications, and you can view all the different files simultaneously in the same work area.
*) Viewable files: Microsoft Office (Excel®, Word, PowerPoint®), PDF, JPEG/PNG/BMP/TIFF, and WMV/AVI/MP4/FLV.
Edit original data
Original Microsoft Office files displayed as "sheets" can be opened easily with compatible applications and edited.
Store onscreen layouts
Onscreen layouts of "sheets" can be stored for later retrieval, so you can easily restart a discussion where you left off.
Note: Download SHARP Touch Viewing Software from the bundled CD-ROM.
Pen Digitizer Functionality Boosts Communicative Potential
The PN-70TW3/60TW3 features a pen digitizer function [not certified by Microsoft] that automatically distinguishes pen and finger input, allowing you to perform pen and touch operations without having to switch modes. The bundled touch pen employs a pressure sensor that faithfully renders your writing style. The pen digitizer function is compatible with Microsoft Office (Excel, Word, PowerPoint, OneNote®), Adobe Photoshop®, Adobe Illustrator®, and SHARP Touch Viewing Software.
Smooth Operation and Comfortable Writing
Simultaneous Writing for Up to 4 People
The PN-70TW3/60TW3 lets you capture ideas at the moment of creation. Recognising up to 10 touch points, they allow up to four people to write at the same time with a finger or touch pen.
User-Friendly SHARP Pen Software Interface
The easy-to-launch SHARP Pen Software user interface incorporates a menu comprising smartly arranged icons that provide easy access to pen settings and functions. Settings such as colour and line thickness can be established for each touch pen. The menus for each pen can be displayed in a floating format that allows them to be moved to any convenient location on the screen.
Touch-operated onscreen menu
Pressing the Touch Menu button on the PN-70TW3/60TW3 instantly displays an onscreen menu that lets you easily switch input sources, change volume level, or turn the touchscreen function on and off without using a remote controller.
Handwriting Recognition
A handwriting recognition [Works with languages supported by SHARP Pen Software] function converts selected onscreen handwriting into standard text. This convenient function allows you to utilise onscreen content to make neat and legible minutes of your meetings.
Minimise glare and fingerprints
Protecting the screen is an anti-glare film that works to reduce glare and reflections and minimise fingerprint soiling on the glass.
Front-mounted speakers
Two speakers (10 W + 10 W) are mounted low on the front of the LCD monitor to deliver clearer sound.
SHARP Display Connect
This software is especially effective for communications with large audiences. By allowing the BIG PAD to share its onscreen content with up to 50 devices[*], and by enabling the exchange of files between those devices, SHARP Display Connect facilitates lively discussions and paperless meetings in both business and educational settings.
*) The number of connectable mobile devices depends on the host OS and the accompanying Windows End-User License Agreement: Windows 7: Max. 20; Windows 8/8.1, Windows 10: Max. 50. OS requirements (as of November 2015): Host: Windows 7, Windows 8/8.1, Windows 10; Client: Windows 7, Windows 8/8.1, Windows 10, OS X v10.7–10.10, Android 2.3-5.0, iOS 6.0–8.0. Connecting 26 or more mobile devices requires at least two LAN access Points
Screensize

60 inch

Resolution

1920X1080 pixel

Brightness

300 cd/m²

Colours

1,06 Mrd

Contrast

3000:1

Width

1437 mm

Response time

6 ms

Depth

94 mm

Interface

HDMI

Inverter

N Y/N

Backlight Sys.

Edge LED

Viewing angle

176° u/d/l/r

Operating temp.

+5 - +35 °C

Display Type

UV²A LCD

TFT with Touch.

YES

Automotive

NO

Leadfree Defin.

10

Packaging

INDIVIDUAL

Height

890 mm
Customs Tariff No.

85285291000

Country

Japan

Supplier Lead time

3 weeks