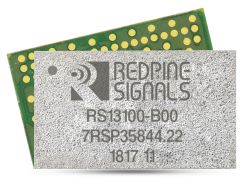 image shown is a representation only

BT5+THREAD+100MHz+C.1MB FLASH
Supplier:
Redpine Signals
Matchcode:
RS13100-0B00-110F-B00
Rutronik No.:
RFMCU1393
Unit Pack:
364
MOQ:
364
package:
MODULE
Packaging:
TRAY
BT5+THREAD+100MHz+C.1MB FLASH Description
RS13100 Wireless MCU SoCs & Modules
Redpine Signals' RS13100 WiSeMCU family of SoCs and modules provides ultra-low power dual-mode Bluetooth®5, 802.15.4 and up to 180 MHz ARM®Cortex®-M4F application processor with advanced security and a rich set of digital/analog peripherals. The RS13100 provides the necessary wireless connectivity options and processing power for audio, data transfer, locationing and control/monitoring applications for wearable, home automation, industrial automation, lighting and home appliance markets.
Solution Highlights
Highly integrated and secure solution with dual-mode Bluetooth 5 and 802.15.4 (capable of running ZigBee or Thread)
Efficient on-chip application processor based on ARM® Cortex®-M4F with up to 180 MHz performance, up to 4 MB dedicated flash and up to 208 kB of RAM
Support for BLE 5 long range (125 kbps), high data rate (2 Mbps) and advertising extensions
Ultra-low power consumption with multiple power modes to reduce the system energy consumption
Multiple levels of security including PUF (Physically Unclonable Function), Crypto HW accelerators, Secure Bootloader and Secure Zone, to create a highly secure system
Ultra-small size SoC (3.51 mm x 3.6 mm) and module (4.63 mm x 7.90 mm) options (additional package options are also available)
Integrated wireless stacks and profiles for easy evaluation and integration
Leading edge RF performance (up to 20 dBm output power for BLE and 802.15.4) providing long range up and higher throughputs
Unique peripherals like ULP sub-system, Voice Activity Detection (VAD) and up to 8 capacitive touch sensor inputs
Block diagram
Microcontroller
ARM® Cortex®-M4 core with up to 180 MHz
Integrated FPU, MPU and NVIC
SWD and JTAG debug options
Internal and external oscillators with PLLs
Flash In-Application Programming (IAP), In-System Programming (ISP) and Over-the-Air Wireless Firmware Upgrade
Power-On Reset (POR), Brown-Out and Black-out Detect (BOD) with separate thresholds
Memory
Up to 4 MB integrated Quad-SPI flash with inline AES engine and XIP
Up to 208 KB SRAM
4-way set-associative 16 KB I-Cache
Security
HW device identity and key storage with PUF
Trusted Execution Environment with Secure Boot loader
Accelerators: AES128/256, SHA256/384/512, RSA, ECC, ECDH, RNG, CRC
Bluetooth
Compliant to dual-mode Bluetooth 5
Transmit power up to +20 dBm1 for Bluetooth LE with integrated PA
Transmit power up to +15 dBm1 for Bluetooth EDR with integrated PA
Receive sensitivity as low as -104 dBm1
Data rates: 125 kbps, 500 kbps, 1 Mbps, 2Mbps, 3 Mbps
EDR+2.1, 4.0, 4.1, 4.2 and 5.0
BT LE 1 Mbps, 2 Mbps and Long Range modes
Piconet and scatternet
BT profile support2 for SPP, A2DP, AVRCP, HFP, PBAP, IAP, GAP, SDP, L2CAP, RFCOMM, GATT, IAP1, IAP2
BLE profile support2: GATT, PXP, HTP, HRP, BPM, VSPP, IPSP/IPSS, BLP, CGMP/CGMS, HOGP HID
802.15.4
2
Compliant to IEEE 802.15.4, 2.4 GHz
Transmit power up to +20 dBm1 with integrated PA
Receiver sensitivity of -102 dBm1
ZigBee PRO and Thread stack embedded
Supported modes2: ZigBee Coordinator, Router1, End device
Supported profiles2: Zigbee Light Link (ZLL), Home Automation (HA) and Smart Energy (SEP)
Supported Thread modes2: Border Router, Router, End Device
RF Features
Integrated baseband processor with calibration memory, RF transceiver, high-power amplifier, balun, T/R switch and flash memory (module)
MCU Sub-system Power Consumption
Active current as low as 19uA/MHz1 in low power mode
Deep sleep mode current: ~500nA1
Dynamic Voltage & Frequency Scaling
Deep sleep mode with only timer active - with and without RAM retention
Wireless Sub-system Power Consumption
7.7 mA1 transmit current in BT 5 mode, 0 dBm output power, 1 Mbps data rate
15 uA1 in BT 5 Connected mode (1s connection interval, 0dBm, 0byte)
10.2 mA1 receive current in BT 5 mode, 1Mbps data rate
Digital Peripherals
USB HS OTG with integrated HS transceiver
10/100 Mbps Ethernet MAC with RMII
SDIO 3.0 host and slave, SD/eMMC
3x USART, 4x SPI, 3x I2C, 2x I2S, SIO, CAN 2.0B
Timers: 5x 32-bit, 1x 16/32-bit, 1x 24-bit, WWDT, RTC, RIT, QEI
Up to 85 GPIOs with GPIO multiplexer
Analog Peripherals
12-bit 16-ch, 5 Msps ADC, 10-bit DAC
3x op-amps, 2x Comparators and Temperature Sensor
8 capacitive touch sensor inputs
Voice Activity Detection (VAD)
Software and Regulatory Certification
ZigBee Certification2, Bluetooth Qualification2
Regulatory certifications (FCC, IC, CE, ETSI, TELEC)2
Operating Conditions
Single supply: 2.1 to 3.6V or 1.85V
Operating temperature: -40°C to +85°C (Industrial grade)
Packages
LGA module
SoC packages - WLCSP, QFN and BGA
Evaluation Kit
Frequency min

400 MHz

Frequency max

2400 MHz

Datarate

40000 kbps

Oper.temp.min.

-40 °C

Memory

FLASH

Memory size

4000 kB

MCU Architectur

32 bit

Supply Volt.min

2.1 V

P(out)

20 dBm

Sensitivity

104 dBm

RAM

400 kB

GPIO

85 no.

ADC resol.max

12 bit

ADC channels

16 no.

SPI

YES

USB

NO

I²C

YES

Other interface

UART,I2S

IEEE802.15.4

YES

IEEE802.15.1

YES

Wireless

TRANSCEIVE

Oper.temp.max

85 °C

Supply volt.max

3.6 V

Automotive

NO

Package

MODULE

Leadfree Defin.

10

Packaging

TRAY
Customs Tariff No.

85176200000

Country

China

Supplier Lead time

22 weeks